POSITION: 3D GENERALIST
Full-time
In-house
Business: Iervolino Studios – Animation Studio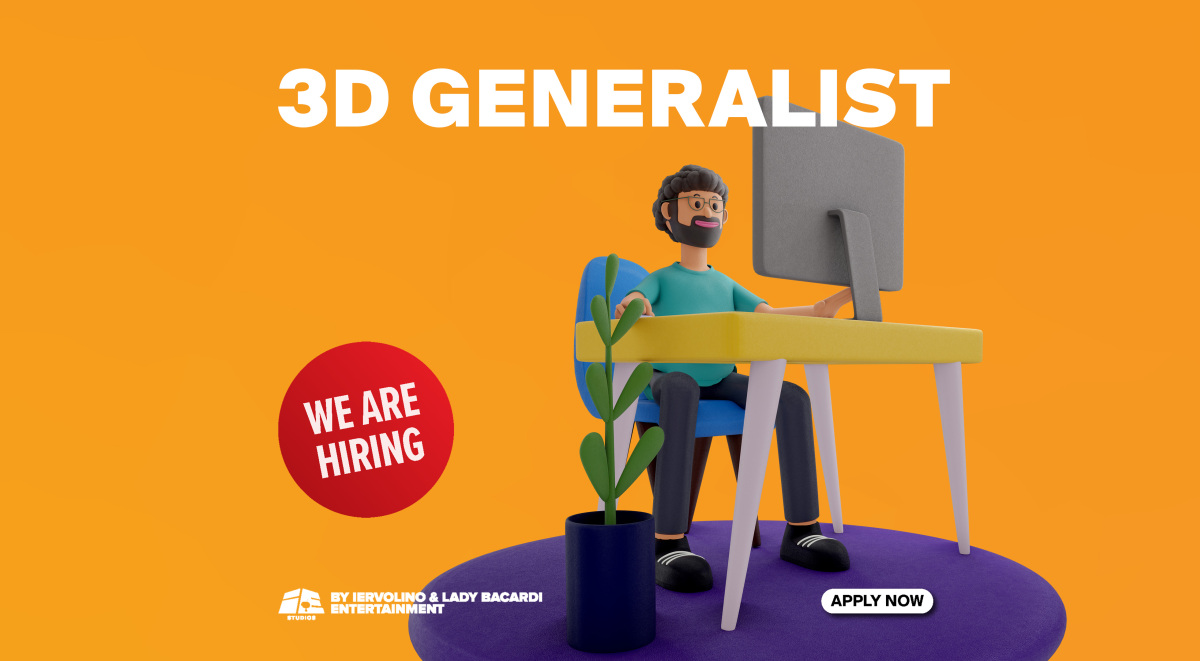 We are looking for a talented 3D Generalist with a great team spirit and good technical knowledge who wants to become part of our team of creative artists and achieve something extraordinary in the animation industry.
What does a 3D Generalist at Iervolino Studios (IES) do?
If chosen, you would get the opportunity to create high quality assets for use in a variety of short, animated content and film projects for worldwide distribution. You would be required to complete work as instructed by our CG supervisor, while ensuring technical accuracy, delivering work on time, and executing tasks such as modelling, texturing, lighting, rigging and look development.
If you love animation and film and are eager to learn and become part of an outstanding and supportive animation team, we are waiting for you – enter the world of animation with Iervolino Studios.
Daily responsibilities:
Executes a broad range of 3D tasks including:

3D modelling (hard-surface, soft-surface, retopology)
Texturing (various styles from cartoon to photorealism)
Lighting and Rendering
Asset creation (asset rigging, shader setup, packing)
3D scene assembly

Assistance in creating 2D and 3D content for various purposes and in various stages of production
Understands and follows production guidelines
Works closely with leads and supervisors to achieve the desired look and quality
Maintains the production pipeline and meets deadlines
Provides timely corrections at the request of production
Establishes looks and/or follows set style direction
Qualifications and skills:
2+ years of experience in a professional environment or 3+ years of experience and work proving this.
Degree in field of Visual Arts, CG or related field is an asset.
Art portfolio related to the references above
*Degree and work experience requirements may be waived if candidates can show exceptional skills
Demonstrable experience of using 3D software within a production environment
Proficiency in Maya and Substance Painter
Knowledge of node-based workflows
Good understanding of composition, light, and color
Knowledge of rendering techniques and optimization processes to minimize render times
High attention to details
Ability to take direction positively and work within a team
Effective cooperation with artists and interaction with other departments in the company
It is necessary to adapt to work in larger teams and advanced project management
Ability to solve and predict potential problems within assigned tasks
Ability to work as part of a team in a high-intensity environment, in a team-oriented, and cooperative way
It's a plus if you have:  
Knowledge of zBrush, Blender, Houdini, Marvelous Designer, Unreal Engine
Live action visual effects experience
Why work with us:
Our creative teams of screenwriters, designers, storyboard artists, animators, directors, illustrators, and many others, have already successfully created "Puffins Impossible", the first animated series created and produced in Serbia, starring Johnny Depp.
We can promise that, as an IES employee, you would work with open-minded, talented and flexible people who value other people's opinions and help each other as much as possible. We truly believe that no company can get too far if they don't appreciate their employees. Communication, feedback and transparency always have to work both ways, which is something we practice and are really proud of.
You will have a unique opportunity to work on animated series and projects for worldwide distribution
A modern and relaxed studio atmosphere
A chance to work in a booming industry, within an international team
Professional and personal growth: continuous investment in training and education of employees
A competitive salary
Open and flexible management
An exciting chance to work with the top-notch technology, side by side with a highly experienced team.
What are the BENEFITS at IES?
Private health insurance – comes with a family package discount
Daily lunch – choose what you want for lunch every day, from a variety of fresh, tasty and nutritious dishes
Flexible working hours – whether you start at 07:00, or 10:00, or somewhere in between, as long as you communicate your plans and schedules with your team supervisor (head of department) on time, you'll be able to plan your 8 hours of daily work the way it suits you
Work from home when necessary – we listen to our colleagues, consider each situation, and know that health and well-being must come first
What can you expect at IES?
You will work with experienced leaders and artists across different departments and work on international and exciting projects. There's always room for improvement and growth, which is why we really appreciate new ideas. Many of us come from different backgrounds, which is why we are so proud of our Internal Training Center. It's all about sharing knowledge that is useful for IES and working together on resolving challenges and obstacles in our line of work. Through different projects and dynamic tasks, you will grow as a professional and add new skills to your resume.
If you feel you are an awesome candidate for this position, please apply by sending your cover letter, resume in PDF, and portfolio link in English. Become a part of our creative gang, APPLY NOW.
We are grateful to everyone eager to join us, but only the shortlisted candidates will be contacted.
If there's anything we missed, feel free to send us your questions and tell us what you are looking for. We can't wait to hear YOUR STORY!