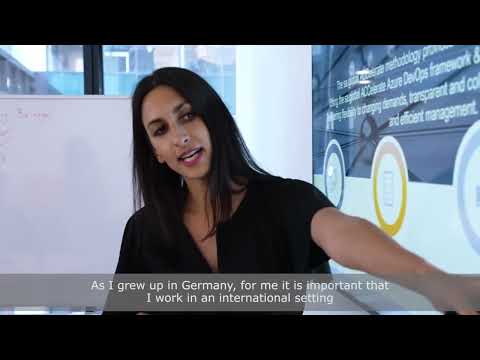 Watch story of our Jasna Milinkovic and find out more about the F&O Functional Consultant position, our workplace and culture.
Overview of sa.global
sa.global is a leading global provider of Microsoft Dynamics 365 solutions for professional services firms and other project-driven organizations. Our family of vertical solutions extends the core functionality of Microsoft Dynamics 365 to provide an unparalleled offering in the marketplace for engineering, architecture, construction, accounting, legal, advertising, marketing, and IT services firms. An 11-time winner of the coveted Microsoft Dynamics Partner of the Year Award, sa.global is also a part of Microsoft's elite Inner Circle. Established in 1990, we are an almost 1000-member strong global organization with a presence in 25 countries.
sa.global Serbia team
To find out about sa.global Serbia team and how fantastic it is to be a part of our organization, read more at https://www.helloworld.rs/blog/sa.global-male-stvari-prave-razliku/12565.
Also, check out our latest corporate video https://youtu.be/aVurOo2oSBU
Main responsibilities:
Collaborate with client stakeholders throughout the organization to ensure a comprehensive set of requirements that are aligned to business objectives
Provide in-depth knowledge of the Microsoft Dynamics 365/AX application and evaluate the customer's business processes against the standard Microsoft Dynamics functionality
Perform fit-gap analysis and design and configure data migration strategies with the team
Support the user community, elicit, manage requirements and specifications as well as execute a variety of testing disciplines (test plans, scripts, unit testing, and user acceptance) to drive development and validate results
As part of our managed services offering, be involved and provide industry-leading support for the Microsoft Dynamics 365/AX application to achieve the customer's business requirements and product upgrades
Facilitate the customer's decision-making process and develop a functional design document that will drive the development process (if modifications/customizations are required, either to processes or to the Microsoft Dynamics application)
Collaborate and interact with multi-disciplined teams, ensuring that there is a clear understanding of what is being delivered
Adopt and evangelize the sa.global successful methodologies to deliver the speed of implementation and ongoing updates to the customer
Mentor and coach junior consultants on best practices, project methodology, and professional client service
Carry out additional, reasonable duties as may occur from time to time as instructed by your manager or members of senior management.
Contribute towards a working environment that epitomizes "one sa.global" where everyone is seen as an equal, and equality and diversity is championed.
Interact with a wide variety of colleagues, customers, and stakeholders at all levels with respect, courtesy, and professionalism.
Skills and experience
Required:
University degree
2+ years of experience working with or implementing ERP solutions
Experience working in consulting or professional services industry
Customer-centric approach and great communication skills
Ability to work with team members across the globe
Being open to travel to customer sites when needed
A natural affinity for technology with a desire to improve technical skills
Good written and spoken the English language
Desired:
Experience with D365F&O but also BC/Navision, Pantheon, Oracle, Upis
Ability to resolve problems independently using an analytical approach
Ability to decompose a challenge into smaller parts and address the parts in a disciplined manner, individually or as a part of a team
Nice to have:
Experience within the international working environment
Travel
Some travel may be required.
Location: Belgrade or remote
Benefits:
Competitive salary and annual bonus
Private health insurance for you and your family members
Remote work
Fitness activities – personal training and gym membership
Support for personal career growth – paid training certifications and conferences, LinkedIn Learning
Healthy breakfast, fruits, massage, and yoga at the office
Team buildings and company gatherings